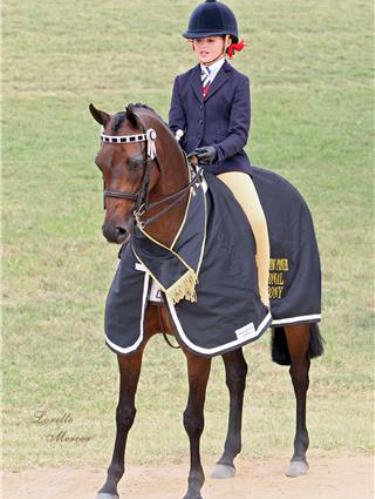 NEWS - MAY 2010.

Manorvale Diamond Diva - Runner-up Grand National Pony of the Year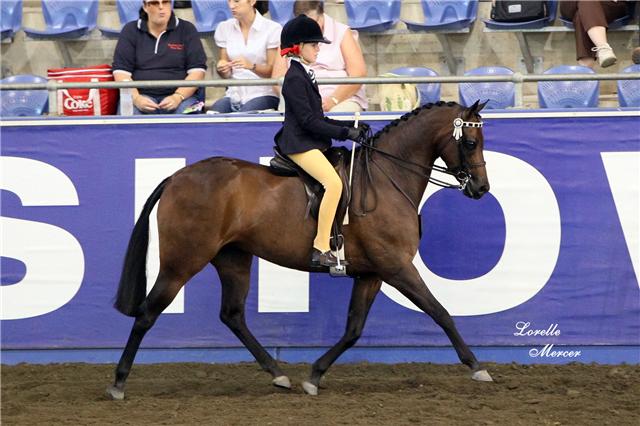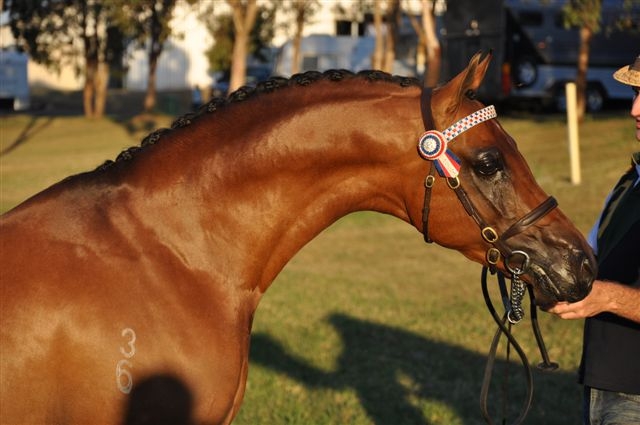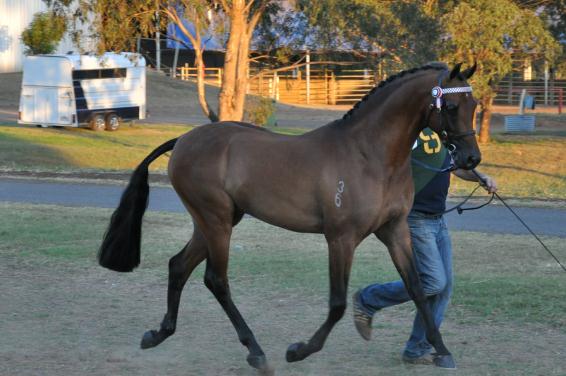 What an exciting day it was for Manorvale Stables back in March when our lovely mare, Manorvale Diamond Diva, competed at the 2010 Grand National Saddle Horse Championships.

Grand Nationals really is the most exciting event.

With only Royal Show champions and reserves and the winners and runner-ups from Show Horse Council qualifiers invited to compete, you really are seeing the cream of the Australian show scene.

Another great drawcard is the chance to be assessed by international judges.

Diva gained her Grand National ticket by going reserve champion at 2009 Melbourne Royal, ridden by Bree Petrie.

From that moment on her preparation had been geared toward being at her peak for the last weekend in March.

Everything came together beautifully for the big day.

Diva and her super-talented young jockey, Bridgette Chalmers, looked an absolute picture.

Shining bright in a star-studded field of ponies, Diva was called forwarded as the Runner-up Grand National Large Pony of the Year.

Only the Douglas Family's legendary Mirinda Touch of Mink stood above her on the day.

What a thrill!

Thanks must go to all the riders who have stepped aboard our "Dixie" this season - in particular Bree, Bridgette, Brioney Payne and Manorvale's resident rider Gabbie Thompson.

East Coast & Aussie Arabian Championships ... 

More big wins for Andrew the Great!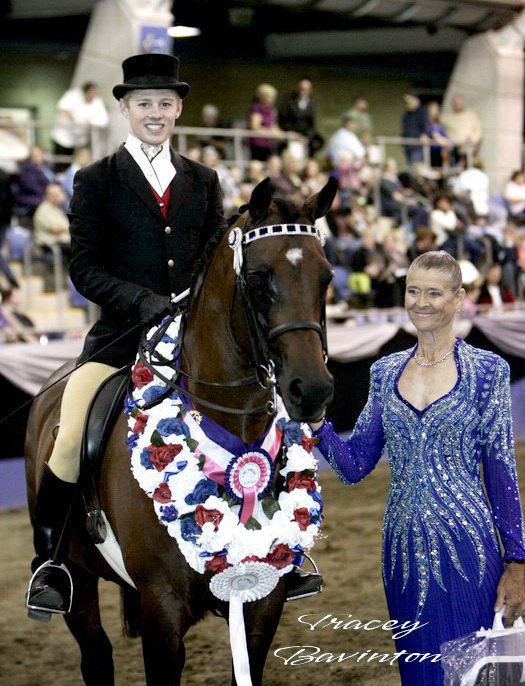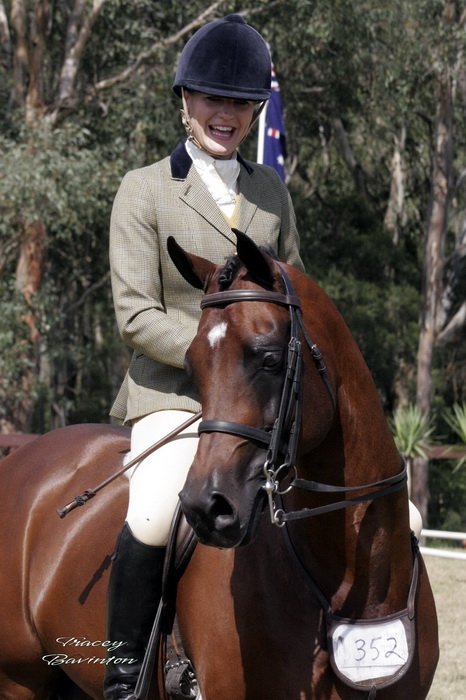 Australian Champion Arabian  Riding Pony Stallion or Colt  3 and 4 years

MANORVALE ROYAL SHOW

Of all the horses trained at Manorvale, Debbielee White's arabian stallion Orabanda Acolade (aka Andrew) would have to have the biggest fan club.

And deservedly so!

Apart from being an absolute sweetheart Acolade can lay claim to be being one of the most successful arabian saddle horses in Australia.

The East Coast Arabian Championships, have long been regarded as the glamour event of the Australian Arab show circuit.

In 2010 they were a particular triumph for Acolade.

Ridden to perfection by Tim Hadlow,  Andrew took out champion ridden purebred stallion, supreme champion ridden purebred and finally the coveted East Coast Cup for pure arabians under saddle.

It was cause for great excitement in the White household, as it was the first time Andrew had won these titles.

What a show, what a horse!

After a couple fo days break it was straight on to the Australian Arabian Championships for the Manorvale team.

Acolade continued his good form, teaming up with rider Claire Deavin to be named Australian Champion Show Hunter stallion, top 10 ridden purebred stallion and placing third in his prelimary and novice dressage tests

Ridden by Tim Hadlow, Annika White's delightful Aloha Symphony took out Australian Champion Ridden Anglo from a very strong class and then backed that performance up with reserve champion derivative bridle path hack.

Annika showed Symphony to win Australian Champion derivative mare handled by a youth.

Not to be outdone, Annika young sister, Andrea, led the lovely Mill Park Vespher to be reserve champion handler 12-15 years.

Manorvale's own Manorvale Royal Show was also in the big ribbons, winning Australian Champion arabian riding pony entire 3 & 4 years.

Special thanks to our good friend Craig Howlett for all his hard work behind the scenes at these shows.

!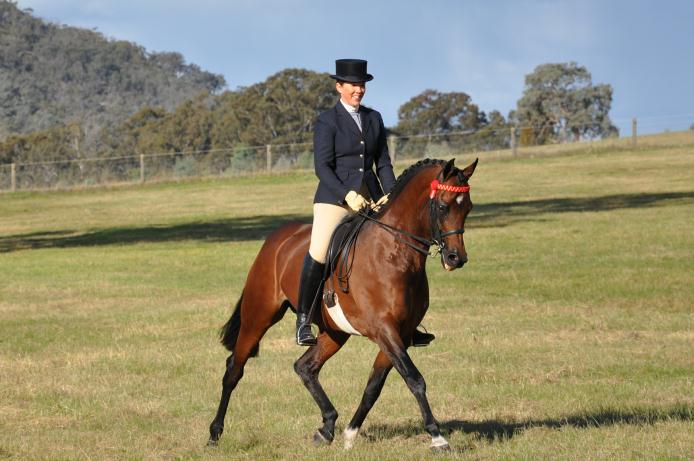 Manorvale's last show for the season was the Queensland Arabian Challenge with Orabanda Acolade and Manorvale Royal Show.

It's quite a haul north for us to attend the Challenge, but we love supporting this friendly show with its super programme and ever-helpful committee.

The results certainly made the effort worthwhile.

Royal Show stood reserve champion arabian Riding Pony entire under the visiting US halter judge, beautifully handled by Mark Lilley.

Clint Bilson was kind enough to fly up to take the ride on Acolade.

The Challenge has always been a happy hunting ground for Acolade and 2010 was no exception.

For the fourth consecutive year he won champion ridden purebred stallion and the Phillippa Tyas Memorial Sash for purebreds.

A very dapper looking Clint was named smartest on parade in the Philippa Tyas.

Acolade also took out champion purebred bridle path hack, champion show hunter and won the preliminary dressage with a score of 76.8 per cent.

His consistency earned him the inaugural Jangharm Trophy for high point saddle horse.

On that happy note the competitive part of the season came to an end.

On The Home Front ...

Since arriving home we have weaned our foals, who are looking more than happy to be tucked up in stables out of the winter weather!

All three have been a pleasure to deal with and are all especially good movers.

They are now available for sale .

Breaking in the youngstock is also underway, with Manorvale Royal Show, Manorvale Pandora and Manorvale Miss Finland making their starts as saddle horses.

Both Pandora and Miss Finland are available for purchase, and should be excellent prospects for the coming Newcomer Season.

Along with the breakers we also have Manorvale County Royal in work, preparing for a pony dressage campaign ridden by Gabbie Thompson.

We are looking forward to tackling this new field with our old champion, who is rising 16 years young.

As always the winter lay-off gives us time to catch up on maintenance around the complex.

This year our main project is the new arena, which is well under way, thanks to my wonderful father-in-law Tony Flack.

Lucky for me, Tony seems to think a few months manual labour in Jerilderie is preferable to spending June and July at home in the "Nu Zelund" high country.

That could explain why he is the only one on the worksite wearing short sleeves while the rest of us are shivering under ski parkas and beanies! 

The arena should be ready for action when the show team return from their spells next month.

The Breeding Barn  ...

On the breeding front we have three foals due in 2010.

Helden Park Fantasia is back in foal to Manorvale Royal Show, in hopes of filly to equal their 2009 baby, M. Blue and Royal.

Our lovely English-type throughbred, Southlands, is also in foal to Royal Show.

Kolbeach Fleur is expecting her first foal in November, after a positive test to Royalwood Boy Soprano.

Bookings are now being taken for the stallions on our 2010 stud roster - Manorvale Finale (RP), Manorvale Royal Show (RP & Arab RP), Manorvale County Royal (RP, Arab RP, Part Welsh & ASP) and the purebred arabians Kharbonation J (imp USA) and Orabanda Acolade.

Please visit our At Stud and individual stallion's pages for more information.